Copper Pipe & Tubing | Austral Wright Metals
Copper Tubing & Copper Pipes for Plumbing, Gasfitting and Drainage Applications – AS1432
Austral Wright Metals copper tube & copper pipe for plumbers is manufactured to meet the requirements of Australian Standard AS1432 and carries the Watermark Certificate of approval. We also supply many manufacturing companies, so please contact us about your Layer Wound Coil (LWC) copper, non-standard sizes, refrigeration requirements and other designated products in copper tube and copper pipe. We have the right product for your job.
Copper pipe and tube is classified into four different specification types based on wall thickness for a specific outside diameter. Products can be colour coded with cap as follows: Type A : Green Type B : Blue Type C : Red Type D : Black
Inherent Strength
Copper tube has inherent strength, providing good resistance to external damage, puncture, abrasion, vibration bumps, and has a wide operating range for pressure and vacuum. Also good corrosion resistance.
Impervious
Copper tube is impervious to oxygen, insecticide, solvents and toxins.
Non-Flammable
Copper pipe and tube is non-flammable and does not emit toxic fumes during fire.
Full Flow Joints
Copper pipe and tube jointing does not reduce the bore of the tube, maximising flow.
U.V. Resistance
Copper tube and pipe does not degrade from direct sunlight or become brittle with age.
Pancake coils
Also available in small pancake annealed coils.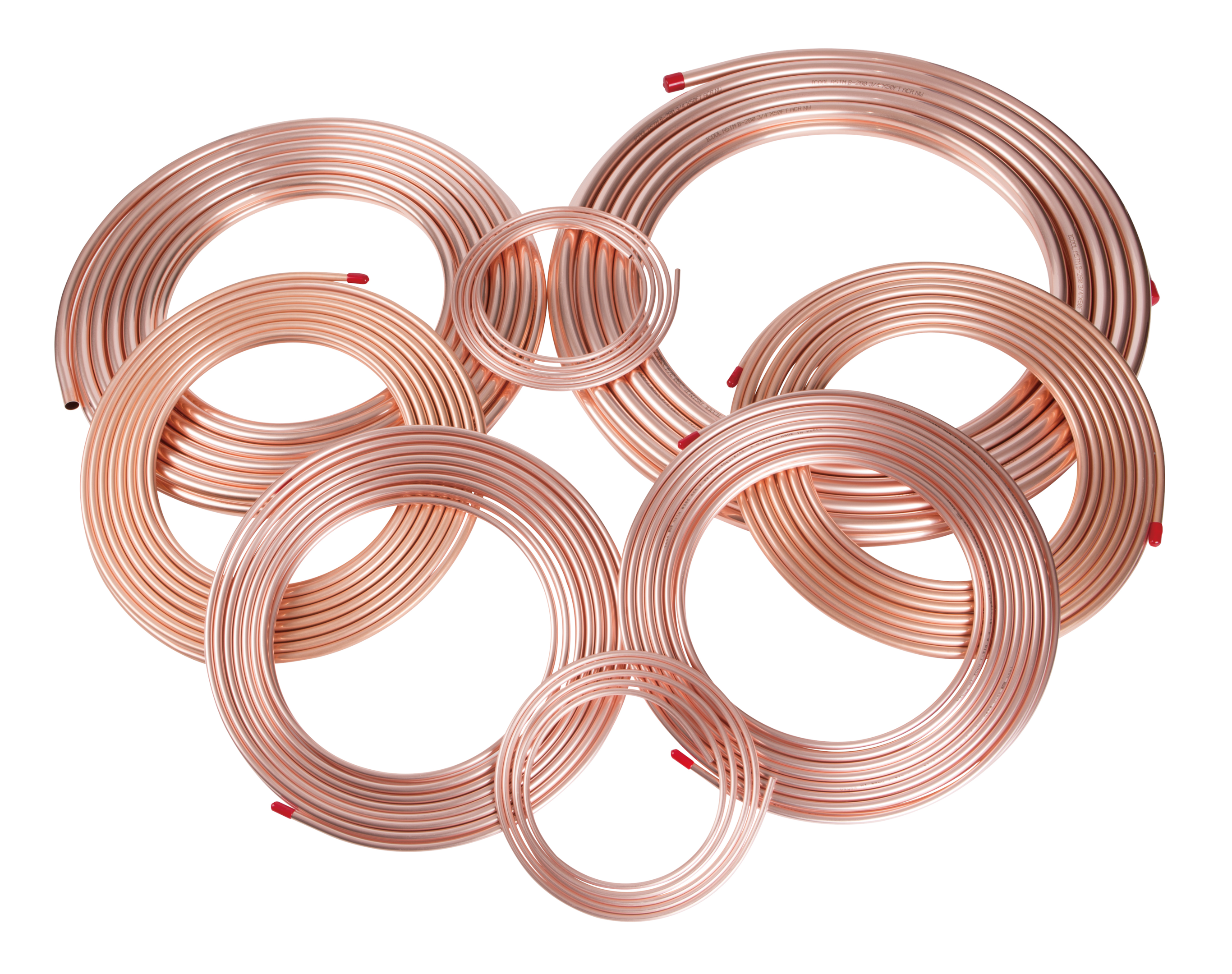 Resistance Rodent Attach
Copper pipe and tube is not prone to damage due to rodent attack.
Multi Applications
Copper pipe sizes, copper pipe fittings and tube is made to universal sizes, not a unique brand size.
Stability
Copper pipe and tube does not creep with age and has 7 to 15 times less linear expansion than other materials with heat, and continues to perform at high temperatures.
Healthier and Non-tainting
Copper pipe and tube does not adversely affect the taste of water and can reduce the number of harmful micro-organisms. As seen in the well-publicised reports on the anti-microbial properties of copper.
Copper fittings
There is a wide range of copper plumbing fittings and methods for installation, such as silver solder, push fit and press fittings.
Recyclable
Copper pipe and tube is a valuable recyclable material.
 Download Copper Tube of Plumbing Brochure
AS1432 Copper Tubing & Copper Tubes for Plumbing, Gasfitting and Drainage Applications
TYPE A – Straight Lengths
| | | | | | | | | |
| --- | --- | --- | --- | --- | --- | --- | --- | --- |
| AWM Item Number | Nominal Size | Outside Diameter mm | Wall Thickness mm | Imperial Equivalent ODand swg | Temper | Length m | Nominal Weightkg/length | Safe Working Pressure kPa(up to 50C) |
| 70001604 | A6 | 6.35 | 0.91 | 1/4" x 20 | Hard | 6 | 0.83 | 11,320 |
| 70001603 | A8 | 7.94 | 0.91 | 5/16" x 20 | Hard | 6 | 1.08 | 8,810 |
| 70001602 | A10 | 9.52 | 1.02 | 3/8" x 19 | Hard | 6 | 1.46 | 8,350 |
| 70001018 | A15 | 12.70 | 1.02 | 1/2" x 19 | BQ | 6 | 2.01 | 6,100 |
| 70001605 | A18 | 15.88 | 1.22 | 5/8" x 18 | BQ | 6 | 3.01 | 5,750 |
| 70001606 | A20 | 19.05 | 1.42 | 3/4" x 17 | BQ | 6 | 4.22 | 5,560 |
| 70001607 | A25 | 25.40 | 1.63 | 1" x 16 | Hard | 6 | 6.53 | 4,750 |
| 70001608 | A32 | 31.75 | 1.63 | 1 1/4" x 16 | Hard | 6 | 8.27 | 3,750 |
| 70001609 | A40 | 38.10 | 1.63 | 1 1/2" x 16 | Hard | 6 | 10.02 | 3,100 |
| 70001610 | A50 | 50.80 | 1.63 | 2" x 16 | Hard | 6 | 13.50 | 2,310 |
| 70001611 | A65 | 63.50 | 1.63 | 2 1/2" x 16 | Hard | 6 | 16.99 | 1,840 |
| 70001612 | A80 | 76.20 | 2.03 | 3"x 14 | Hard | 6 | 25.37 | 1,900 |
| 70001613 | A90 | 88.90 | 2.03 | 3 1/2" x 14 | Hard | 6 | 29.71 | 1,630 |
| 70001614 | A100 | 101.60 | 2.03 | 4" x 14 | Hard | 6 | 34.05 | 1,500 |
| 70001615 | A125 | 127.00 | 2.03 | 5" x 14 | Hard | 6 | 42.74 | 1,200 |
| 70001616 | A150 | 152.40 | 2.64 | 6" x 12 | Hard | 6 | 66.61 | 1,300 |
| 70001617 | A200 | 203.20 | 2.64 | 8" x 12 | Hard | 6 | 89.21 | 910 |
TYPE B – Straight Lengths
| | | | | | | | | |
| --- | --- | --- | --- | --- | --- | --- | --- | --- |
| AWM Item Number | Nominal Size | Outside Diameter mm | Wall Thickness mm | Imperial Equivalent OD and swg | Temper | Length m | Nominal Weightkg/length | Safe Working Pressure kPa(up to 50C) |
| 70001620 | B6 | 6.35 | 0.71 | 1/4" x 22 | Hard | 6 | 0.67 | 8,560 |
| 70001619 | B8 | 7.94 | 0.71 | 5/16" x 22 | Hard | 6 | 0.86 | 6,700 |
| 70001618 | B10 | 9.52 | 0.91 | 3/8" x 20 | Hard | 6 | 1.32 | 7,220 |
| 70000845 | B15 | 12.70 | 0.91 | 1/2" x 20 | BQ | 6 | 1.81 | 5,290 |
| 70001621 | B18 | 15.88 | 1.02 | 5/8" x 19 | BQ | 6 | 2.55 | 4,810 |
| 70001293 | B20 | 19.05 | 1.02 | 3/4" x 19 | BQ | 6 | 3.10 | 3,970 |
| 70001021 | B25 | 25.40 | 1.22 | 1" x 18 | Hard | 6 | 4.97 | 3,500 |
| 70001022 | B32 | 31.75 | 1.22 | 1 1/4" x 18 | Hard | 6 | 6.28 | 2,780 |
| 70001023 | B40 | 38.10 | 1.22 | 1 1/2" x 18 | Hard | 6 | 7.58 | 2,300 |
| 70001025 | B50 | 50.80 | 1.22 | 2" x 18 | Hard | 6 | 10.19 | 1,710 |
| 70001030 | B65 | 63.50 | 1.22 | 2 1/2" x 18 | Hard | 6 | 12.80 | 1,370 |
| 70001028 | B80 | 76.20 | 1.63 | 3" x 16 | Hard | 6 | 20.48 | 1,520 |
| 70001622 | B90 | 88.90 | 1.63 | 3 1/2" x 16 | Hard | 6 | 23.97 | 1,300 |
| 70001029 | B100 | 101.60 | 1.63 | 4" x 16 | Hard | 6 | 27.45 | 1,200 |
| 70001623 | B125 | 127.00 | 1.63 | 5" x 16 | Hard | 6 | 34.43 | 960 |
| 70001557 | B150 | 152.40 | 2.03 | 6" x 14 | Hard | 6 | 51.43 | 1,000 |
| 70001558 | B200 | 203.20 | 2.03 | 8" x 14 | Hard | 6 | 68.80 | 720 |
TYPE C and D – Straight Lengths
| | | | | | | | | |
| --- | --- | --- | --- | --- | --- | --- | --- | --- |
| AWM Item Number | Nominal Size | Outside Diameter mm | Wall Thickness mm | Imperial Equivalent ODand swg | Temper | Lengthm | Nominal Weightkg/length | Safe Working Pressure kPa(up to 50C) |
| 70001625 | C10 | 9.52 | 0.71 | 3/8″ x 22 | Hard | 6 | 1.05 | 5,520 |
| 70001624 | C15 | 12.70 | 0.71 | 1/2″ x 22 | BQ | 6 | 1.43 | 4,070 |
| 70001626 | C18 | 15.88 | 0.91 | 5/8″ x 20 | BQ | 6 | 2.30 | 4,180 |
| 70001627 | C20 | 19.05 | 0.91 | 3/4″ x 20 | BQ | 6 | 2.78 | 3,450 |
| 70001628 | C25 | 25.40 | 0.91 | 1″ x 20 | Hard | 6 | 3.75 | 2,560 |
| 70001629 | D32 | 31.75 | 0.91 | 1 1/4″ x 20 | Hard | 6 | 4.73 | 2,040 |
| 70001367 | D40 | 38.10 | 0.91 | 1 1/2″ x 20 | Hard | 6 | 5.70 | 1,690 |
| 70001630 | D50 | 50.80 | 0.91 | 2″ x 20 | Hard | 6 | 7.65 | 1,260 |
| 70001631 | D65 | 63.50 | 0.91 | 2 1/2″ x 20 | Hard | 6 | 9.60 | 1,010 |
| 70001632 | D80 | 76.20 | 1.22 | 3″ x 18 | Hard | 6 | 15.41 | 1,130 |
| 70001633 | D90 | 88.90 | 1.22 | 3 1/2″ x 18 | Hard | 6 | 18.02 | 970 |
| 70001634 | D100 | 101.60 | 1.22 | 4″ x 18 | Hard | 6 | 20.63 | 890 |
| 70001635 | D125 | 127.00 | 1.42 | 5″ x 17 | Hard | 6 | 30.04 | 830 |
| 70001636 | D150 | 152.40 | 1.63 | 6″ x 16 | Hard | 6 | 41.40 | 800 |
COILS
| | | | | | | | | |
| --- | --- | --- | --- | --- | --- | --- | --- | --- |
| AWM Item Number | Nominal Size | Outside Diameter mm | Wall Thickness mm | Imperial Equivalent OD and swg | Temper | Length m | Nominal Weightkg/length | Quantity Per Box |
| 70001448 | A6 | 6.35 | 0.91 | 1/4″ x 20 | Annealed | 30 | 4.17 | 12 |
| 70001449 | A8 | 7.94 | 0.91 | 5/16″ x 20 | Annealed | 30 | 5.39 | 9 |
| 70001289 | A15 | 12.70 | 1.02 | 1/2″ x 19 | Annealed | 18 | 6.02 | 6 |
| 70001639 | A20 | 19.05 | 1.42 | 3/4″ x 17 | Annealed | 18 | 12.65 | 4 |
| 70001450 | B10 | 9.52 | 0.91 | 3/8″ x 20 | Annealed | 18 | 3.96 | 8 |
| 70000809 | B15 | 12.70 | 0.91 | 1/2″ x 20 | Annealed | 18 | 5.42 | 6 |
| 70001641 | B18 | 15.88 | 1.02 | 5/8″ x 19 | Annealed | 18 | 7.66 | 5 |
| 70001535 | B20 | 19.05 | 1.02 | 3/4″ x 19 | Annealed | 18 | 9.30 | 4 |
| 70001642 | B25 | 25.40 | 1.22 | 1″ x 18 | Annealed | 18 | 14.91 | 1 |
| 70001643 | C18 | 15.88 | 0.91 | 5/8″ x 20 | Annealed | 18 | 6.89 | 5 |
| 70001644 | C20 | 19.05 | 0.91 | 3/4″ x 20 | Annealed | 18 | 8.34 | 4 |
COPPER TUBING & COPPER TUBE PROPERTIES
Phosphorus Deoxidised Copper High Residual Phosphorus
ALLOY C12200
CHEMICAL COMPOSTION
Copper:
99.90% minimum
Phosphorus:
0.015%-0.040%
TUBE SPECIFICATIONS
Recommended:
AS 1432
Related:
AS 1569, 1571, 1572, EN 1057, ASTM B75, B88, JIS H3300, NZS 3501
PHYSICAL PROPERTIES
Melting Point:
1083ºC
Density:
8.94 x 103 kg/m3 at 20ºC
Thermal Expansion Coefficient (20-100ºC):
16.8 x 10-6 perºK
Thermal Conductivity (20-100ºC):
305-320 W/(m.K)
Specific Heat Capacity:
385 J/kg ºK
Electrical Conductivity (annealed):
75-90% I.A.C.S.
Electrical Resistivity (annealed):
0.0192-0.0230 microhm m at 20ºC
Modulus of Elasticity:
117 GPa
Modulus Rigidity:
44 GPa
JOINTING PROPERTIES
FABRICATION PROPERTIES
Soldering:
Excellent
Cold Work:
Excellent
Brazing:
Excellent
Hot Work:
Excellent
Welding:
Hot Work Temp:
750ºC-875ºC
Oxy-Acetylene:
Good
Annealing Range:
450ºC-600ºC
Gas Shield Arc MIG/TIG:
Good
Coated Metal Arc:
Not recommended
Resistance Spot & Seam:
Not recommended
Resistance Butt:
Not recommended
SUITABLIITY FOR SURFACE FINISHING BY
Polishing:
Excellent
Machining:
Machinability Rating 20%
Plating:
Excellent
MECHANICAL PROPERTIES
Tube Temper
Annealed
Bendable
Hard Drawn
Hardness (HV5) – Specification
70 max
80-100
100 min
Yield (0.2% Proof) (MPa) – Typical
70
220
350
Ultimate tensile (MPa) – Typical
220
280
380
Elongation (% on 50mm) – Typical
55
20
5