Copper Alloys Silicon Bronze C65500

 Product Data Sheet – Copper Alloys
What Is Silicon Bronze
Silicon bronze is perhaps better known by its American trade name "Everdur" for silicon bronze wire and rod, or the Australian trade name "Cusilman" for silicon bronze sheet, plate, circles and ingot.
International this alloy is known as UNS C65500 and nominally contains 96% copper, 3% silicon and 1% manganese. The addition of manganese greatly increases tensile yield strength, tensile strength and fatigue strengths while still retaining the excellent ductility, durability and fabricating properties characteristic of copper. Whilst not classified as a low lead brass alloy due to no zinc addition, it also has no lead addition.
Despite its high strength this material has high ductility and can withstand severe cold forming if necessary. Like stainless steel, silicon bronze work hardens fairly rapidly.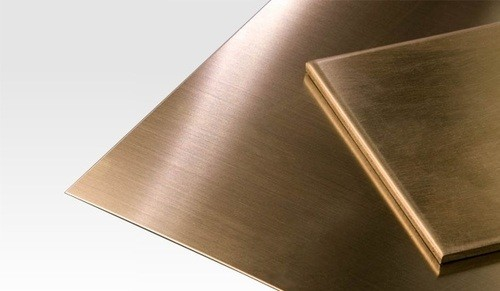 Silicon Bronze Product Examples
Physical Properties and Mechanical Properties of Silicon Bronze
Silicon bronze is generally superior to copper in corrosive situations and finds wide use as high-strength, corrosion-resistant welded vessels. Calorifiers, domestic hot water cylinders, process vessels and pickling tanks are typical applications.
The silicon content lowers the conductivity of silicon bronze drastically to that of steel and also acts as a very efficient deoxidant when the metal is molten. As a result, silicon bronze is one of the easiest copper alloys to weld which is a particular advantage in boiler and pressure vessel applications.
This alloy withstands many corrosive situations involving non-oxidising environments much better than stainless steel and should be regarded as a competitor to stainless steel in many welded corrosion-resistant fabrications.
Welding properties
The silicon bronzes are universally recognised as having the best welding properties of all the copper alloys. They are readily weldable by the Inert Gas Tungsten Arc (TIG), the Inert Gas Consumable Electrode (MIG), and the Carbon-Arc and Oxy-Acetylene processes. The Shielded Metal-Arc Process can be used, but the TIG and MIG processes are generally preferred. Even resistance welding processes can be applied to material up to 2mm thick. Silicon bronze filler metal rods and wire are commonly available. Braze welding is not a typical process used.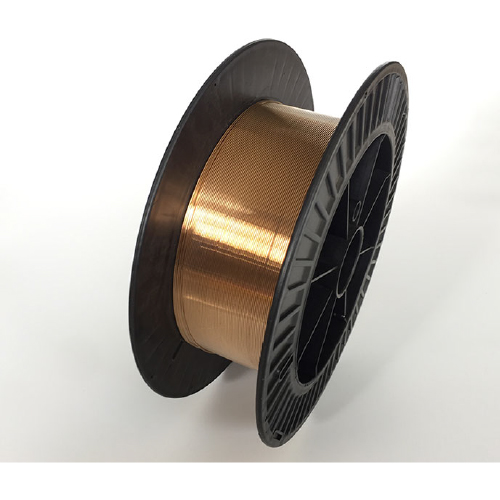 Corrosion properties
As mentioned silicon bronze has good corrosion resistance. The degree of corrosion resistance always depends on the service conditions. Variables such as temperature, fluid velocity and concentration of oxidising agents may all greatly influence the rate of corrosion.
Service experience has shown that silicon bronze may be used to advantage in the following applications:
Industrial, marine or rural atmospheres
Many types of natural waters
Stagnant and low velocity sea water
Sewage
Organic chemicals, such as alcohols, aldehydes, ketones, esters, hydrocarbons, phenol etc
Acids – sulphuric, cold up to 90%; hot up to 30% in the absence of oxidising agents. Sulphurous, hydrochloric and hydrofluoric, cold up to 15%. Tarttaric, hydrobromic, oxalic lactic, formic, citric, fatty acids, acetic, boric and hydrocyanic.
Alkalies – caustic soda, up to 40% cold or hot. Caustic potash and lime.
Salts – calcium, chloride, alums, zinc sulphate, sodium silicate, magnesium chloride, copper sulphate (cold), aluminium sulphate, zinc chloride, ferrous sulphate, sodium sulphite, and organic salts.
Miscellaneous – beer, fertilisers, brines, tanning liquors, town gas, dry chlorine.
Importantly silicon bronze should not be used for the following:
Alkaline sulphides, ammonia (aqueous), ferric chloride (hot), hydrogen sulphide, mercury and its salts, aniline hydrochloride, ferric sulphate (hot), phosphoric acid (crude boiling), nitric acid, mixtures of chromic and sulphuric acids.
Silicon Bronze and galvanic corrosion
Galvanic corrosion results from contact of dissimilar metals exposed to a corrosive influence. Most of the copper alloys may be used in contact with silicon bronze with little risk of this type of corrosion. However, an all-silicon bronze structure is preferred. This includes using silicon bronze filler rods in welding which reduces the likelihood of galvanic corrosion.
Silicon Bronze and stress corrosion cracking
Stress corrosion cracking is caused by corrosive action in combination with high localised stresses in a structure. In sections where stresses are high, sometimes even the mildest corrosive influences cause big trouble. Although silicon bronze is relatively resistant to stress corrosion cracking, there are a few corrosive agents (eg ammonia and amine type compounds) which may cause this type of attack.
In structures like tanks or pressure vessels, stress might come from many directions, eg;
work hardening of the metal during fabrication.
the constraint of the metal close to welds (possible the fault of inadequate jigging or support during welding.
pressures set up inside or outside the vessel during operation.
Service at elevated temperature
Silicon bronze is not recommended for service where temperatures are likely to exceed 150C or in contact with steam at temperatures in excess of 100C.
Although the alloy can be used at higher temperatures than 150C, it is subject to creep over long periods of service. The comparatively low permissible design stresses based on creep data necessitate uneconomical thickness of plate for vessels.
Short periods of service at elevated temperatures can be safely tolerated as the normal design stresses are usually based on 0.,1% of strain in 10,000 hours of service.
Contact with steam or water in excess of 100C for long periods of time may produce a corrosive attack, particularly if the material is fairly highly stressed or is subject to cycling stresses.
Silicon Bronze Applications
This is an alloy that should be used in any application where strength and formability of mils steel are required with the corrosion resistance of copper. The strength and corrosion resistance combination is also an advantage in a wide variety of applications from marine hardware (as used in Australia's first-ever America's Cup entrant "GRETEL", and fastenings to various items of chemical plants.)
Consumer Sculpture
Electrical Motors, Rotor Bar, Pole Line Hardware
Fasteners Hinges, Bolts, Nails, Screws, Burrs, Rivets, Nuts, Cotter Pins, Clamps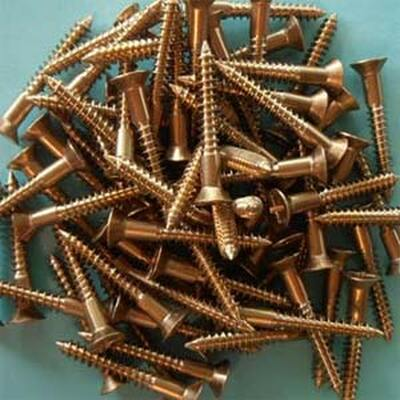 Industrial Oil Refinery Plumbing Tube, Chemical Industry, Welded Tanks, Screen Cloth, Piston Rings, Kettles, Heat Exchanger Tubes, Chemical Equipment, Channels, Cable, Bushings, Bearing Plates, Butts, Shafting, Screen Plates, Wire, Doctor Blades, Paper Industry, Hydraulic Pressure Lines, Tanks, Pressure Vessels, Welded Pressure Vessels, Wear Plates, Marine Hardware, Propeller Shafts.
Chemical Composition
% Maximum, unless shown as range or minimum
| | | | | | | | |
| --- | --- | --- | --- | --- | --- | --- | --- |
| | Copper | Iron | Lead | Manganese | Nickel | Silicon | Zinc |
| Min/Max | Remainder | 0.8 | 0.05 | 0.50-1.3 | 0.6 | 2.8-3.8 | 1.5 |
| Nominal | 97.0 | – | – | 0.9 | – | 3.0 | – |
(1) Copper value includes Silver
(2) Nickel value includes Cobalt
Note: Copper + Sum of named elements, 99.5% minimum
Applicable Specifications
Product

Specification

ASME

ASTM

Military

SAE

Bar

J461, J463

Bar, Forging

B124

Bar, Rolled

SB98

B96, B98

J461, J463

Bar, Rolled, Pressure Vessels

SB98

B96

Bolts

F468

Forgings, Die

B283

Nuts

F467

Pipe

SB315

B315

Plate

SB96

B96

Plate, Bridge & Bearing

B100

Plate, Clad

B432

Plate, Pressure Vessels

SB96

B96

Rod

SB98

B98

J461, J463

Rod, Forging

B124

Screws

F468

Shapes

SB98

B98

J461, J463

Shapes, Forging

B124

Sheet

SB96

B96

J461, J463

Sheet, Bridge & Bearing

B100

Sheet, Pressure Vessels

SB96

B96

Strip

SB96

B96

J461, J463

Studs

F468

Tube

SB315

B315

MIL-T-8231

Wire

B105, B99
Common Fabrication Processes
Blanking, Drawing, Forming and Bending, Heading and Upsetting, Hot Forging and Pressing, Roll Threading and Knurling, Shearing, Squeezing and Swaging.
Fabrication Properties
| | |
| --- | --- |
| Fabricating Technique | Suitability |
| Cold Working Capacity | Excellent |
| Hot Working Capacity | Excellent |
| Forgeability Rating | 40 |
| Machinability Rating | 30 |

| | |
| --- | --- |
| Joining Technique | Suitability |
| Soldering | Good |
| Brazing | Excellent |
| Oxyacetylene Welding | Good |
| Gas Shielded Arc Welding | Excellent |
| Coated Metal Arc Welding | Fair |
| Resistance Welding (Spot) | Excellent |
| Resistance Welding (Seam) | Excellent |
| Resistance Welding (Butt) | Excellent |
Mechanical Properties
Room Temperature 20°C
Temper

Section Size

Cold Work

Temp

Tensile Strength

Yield Strength

0.5% ext under load

Elongation

Hardness Rockwell

Hardnesss Vickers

Shear Strength

Fatigue Strength

@ 108 cycles

mm

°C

MPa

MPa

%

B

C

F

30T

HV

MPa

MPa

Flat Products
H01

1

20

469

241

30

75

–

–

67

138

324

–

H02

1

20

538

310

17

87

–

–

75

170

345

–

H04

1

20

648

400

8

93

–

–

78

192

393

–

H06

1

20

717

414

6

96

–

–

80

414

–

H08

1

20

758

427

4

97

–

–

81

434

–

OS015

1

20

434

207

55

66

–

90

–

310

–

OS035

1

20

414

172

60

62

–

85

–

296

–

OS070

1

20

386

145

63

40

–

76

–

290

–

Rod
H02

25.4

20

20

538

310

35

85

–

–

–

359

–

H04

25.4

36

20

634

379

22

90

–

–

–

400

–

H06

25.4

50

20

745

414

13

95

–

–

–

427

–

OS050

25.4

0

20

400

152

60

60

–

–

–

296

–

Tube
H80

1.7

35

20

641

–

22

92

–

–

78

–

–

OS050

1.7

0

20

393

–

70

45

–

–

–

–

–

Wire
H00

2

20

483

276

35

–

–

–

–

331

–

H01

2

20

552

331

20

–

–

–

–

359

–

H02

2

20

676

393

8

–

–

–

–

400

–

H04

2

20

862

448

5

–

–

–

–

448

200

H08

2

20

1000

483

3

–

–

–

–

483

207

OS035

2

20

414

172

60

–

–

–

–

296

–
Physical Properties
Property
Imperial Units

Metric Units

Density

Specific Gravity

8.53

8.53

Melting Point (Liquidus)

Melting Point (Solidus)

Electrical Resistivity

148 ohms(circ mil/ft) @ 68

°

F

Electrical Conductivity

0.041 MegaSiemens/cm@ 20

°

C

Specific Heat

Mean Coefficient of Expansion

10.0 x 10

-6

per

°

F (68-572

°

F)

18.0 x 10

-6

/

°

C @ 20

°

C (20-300

°

C)

Thermal Conductivity

21.0 Btu . ft/(hr.ft

2

.

°

F) @ 68

°

F

Modulus of Elasticity (Tension)

15,000 ksi

103,400 MPa

Modulus of Rigidity (Torsion)

5,600 ksi

38,610 MPa
Tempers Most Commonly Used
Flat Products
Plate

M20

Sheet

M20

Strip, Rolled

H01, H04, H06, H08, OS015, OS035, OS070

Wire, Rolled

H02, H06

Other Products
Rod

H02, H04, H06, OS050

Tube

H58, H80, OS050

Wire

H00, H01, H04, H08, OS015, OS035